Find the perfect bioplastic gift for every holiday, budget, and person on your list. We have put together a roundup of some fantastic plastic ideas for the upcoming festival season or any other occasion. Make somebody happy with an ecological and healthy surprise while doing something good for our planet.
.
1. Biodegradable cup made of rice husk, starch
The H12-CR003 model from Fine Ocean Imp. & Exp. Co. Ltd is a biodegradable cup made of 80:20 rice husk fiber-lignin starch. It is free of BPA, plasticizers and melamine, and safe to use in microwave ovens and dishwashers. The environment-friendly cup has a food-grade silicone lid and base, and comes in a natural finish. It withstands temperatures between -30 to 120 C. Product dimensions are 13.7×8.6cm while weight is 205g. Lid colors, sizes and designs can be buyer-specified.
Fine Ocean specializes in environment-friendly housewares. It offers BPA-free, FDA-compliant and LFGB-, DGCCRF- and CCI-certified products. The company is based in Fujian province.
ByoCups have a high gloss and quality feel unlike any other plastic reusable coffee cups currently on the market. The cups, silicon band and lids are also microwave and dishwasher safe.
2. Eco Drinking Bottle PureKids & PureFee
Drinking with pleasure: The ajaa! PureFeel Bottle 0.8 l and the PureKids Bottle 0.4 l consist exclusively of sugar cane and minerals. They are completely free of harmful substances, such as BPA and therefore completely harmless to health. The drinking bottles are light, easy to care for and unbreakable. Even with gassy drinks they are leak-proof. Dishwasher-safe, odourless and tasteless, so that you can enjoy different drinks – hot and cold – from them.
The PureKids bottle from ajaa is light, leakproof, shatterproof and shaped so that children can hold it easily. The wide drinking spout makes drinking easy, even for little children.
The PureFeel Bottle from ajaa is slim compared to the children's drinking bottle with a narrower opening and has double the amount.
The plastic-free (no crude oil) drinking bottle is ideal for all occasions: for work, school, during sports or on the go. They fit in the most bottle holders in the car and on the bike and they can also be easily transported in backpacks and handbags. The bottle can simply be held on the sustainable cord made of organic linen or hung on the backpack. The ajaa! bottles are also light and shatterproof, making them a great alternative to glass or metal bottles.
Tip: Use the bioplastic bottles in two practical sizes, to store delicious, healthy smoothies, salad dressing and much more. To get healthy, flavourful drinks, you can simply put a piece of fruit in the water bottle. 100% natural, contains no petroleum, no plasticiser or harmful BPA.
3. TicToys Binabo Ball 60 Pieces in 4 Colours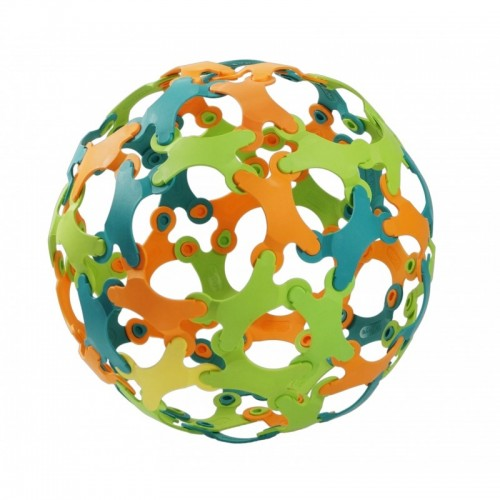 The natural ball, Binabo, is a sports object, a construction game and motoric game. Like this you cannot only build balls, also animals, plants, jewellery or any other objetcs. With TicToys' Binabo you can construct balls of different forms and sizes. They are stable and can be played in a sporty way. They can be used for example as juggle- foot- or volleyballs.
Binabo is produced using a special biomaterial. Like this, Binabo is light, resistant, tearproof, flexible, and without harmful substances. The low weight makes it a compact travel game.
How to use: Plug the chips together to a ball. With a set of 60 pieces you can for example build three a football or juggling balls (12 pieces each). You can build balls of different shapes and sizes (eg 12, 24, 30, 36 or 60 Chips). You can play Binabo like a normal ball, kick it, juggle it, throw and catch it. Even as a volleyball or hockey ball Binabo has already proven itself.
A construction game and motoric game for children from 5 years and for beginners of all ages. The new toy culture of the Germany company TicToys offers ecological toys as sustainable alternative to conventional toys that is fun and encourages movement.
4. Gies ecoline Lunchbox with separation, Eco Bento Box
The sustainable lunchbox from Gies ecoline provides a change for the daily break. The practical separation into two compartments keeps the food fresh from each other. No more bread that tastes like apple or crumbs in vegetables and fruits. The larger subdivision is great for a sandwich. In the smaller compartment fruits, vegetables or other snacks can be stowed. The clip is easy to open and close. The lunch box not only holds the daily snacks for school and work, but is also suitable as a storage box for small pieces of toys, sewing utensils and craft accessories. The eco bento box is also a perfect companion on holiday and on day trips.
5. Boombuz Women Eco Flip Flops
The sporty women's eco flip flops Lilli Basic naked by Boombuz are the ideal companion for the outdoor swimming pool, for camping and when showering. The water shoe provides a secure and comfortable fit thanks to its ergonomically shaped cushion and durable sole with Boombuz shaped profile. The bioplastic material makes this feminine toe separator a popular shoe with high wearing comfort. The specially developed thong made of soft biopolymers guarantees additional wearing comfort. The strap is made of high quality organic fabric. Especially in wet rooms, the outsole with nub-like notches offers best grip on slippery surfaces. The sporty women's flip flops »Lilli Basic naked« by Boombuz is the ideal bathing shoe for perfect well-being. The plain design can easily be combined with loose outfits.
6. Toy Blocks made of Bioplastics
Building blocks of bioplastics from BioFaktur are harmless eco-friendly toys for children, because children discover their world among other things with the sense organ mouth. The toy blocks are 100 % pollution-free, biodegradable and made of renewable resources. In addition, building bricks encourage creativity and motor skills of your child. The eco toy has no sharp edges and is dyed with organic colours. The environmentally friendly toy is dishwasher-safe. The toy has the CE mark (CE = Communauté Européenne) and complies with the EU product directives.